MONTASIO CHEESE:
a precious balanced food to enjoy at all times.
In perfect wheels-nor too big, nor too small-Montasio is ideal both on family tables and in restaurants. This high-nutritional-value cheese is characterized by a balanced composition: 32-36% water, 32-34% fats, 24-26% proteins.
Moreover, it is good, rather excellent for people of all ages, thanks to its high digestibility.
In particular, Montasio cheese is recommended in the diet of girls and boys. In fact, with its energy supply and nutrients (proteins, calcium, phosphorus, iron and vitamins) it supports a healthy and balanced growth.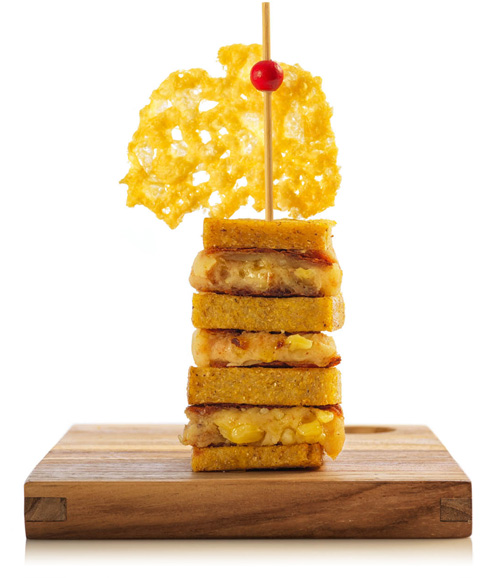 Average values
for 100 grams
2 months aging
6 / 7 months aging
10-12 months aging
Water g
36
34
32
Protein g
24
26
28
Fat g
32
33
33
Saturated fat g
24
24
25
Carbohydrate/Lactose g
>0
>0
>0
K cal
384
400
418
K J
1592
1635
1697
Ca mg
740
790
850
P mg
530
508
620
Ca/P ratio
1.4
1.4
1.4
NaCl g
1.6
1.7
1.9
Vit. A ug
418
410
407
Vit. B – carotene ug
109
98
90
Vit. E ug
455
680
928
Vitamins are expressed in terms of micrograms/100 gr of Montasio cheese
Mineral salts are expressed in terms of micrograms/100 gr of Montasio cheese
DELIGHT FOR THE PALATE, ALL DAY LONG
Montasio cheese is the ideal choice, throughout the day:
As breakfast or snack
Taste and energy with a serving of 50 g of Montasio, in combination with whole wheat bread and salad leaves.
At lunch or dinner
To be savored 2/3 times a week, preferably paired with polenta, cooked or raw vegetables…and fruits, too! Avoid combination with cold cuts!
LACTOSE-FREE, FOR THE PALATE'S DELIGHT
Even lactose-intolerant individuals may enjoy a moment of taste.
Actually, it is worth highlighting that not all milk-by products entail lactose, as the study "Composition of Italian PDO Cheeses" shows. In fact, during the production process, some aged cheeses are provided with specific bacteria that eliminate lactose transforming it into lactic acid.
Montasio aged for at least 60 days is simply lactose-free; therefore, it is also suitable for people who are intolerant to this type of sugar.
Laboratory tests prove that Montasio cheese shows values of lactose under 0.01 g in 100 g of product, about 10 times less the actual limit as established in national and Community legislation.